Pattaya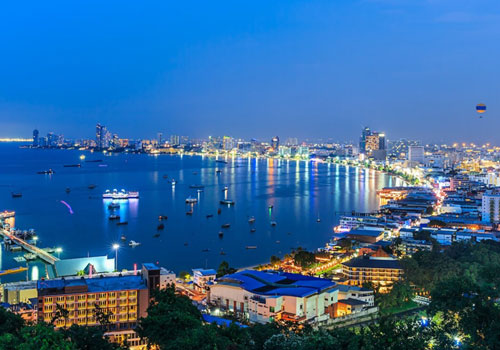 Pattaya is no stranger to conventions, conferences and exhibitions. In fact back in the mid-1980s it was the first resort destination in Thailand to attract international incentives, mainly from European clients. Since then it has been the venue for an amazing array of large-scale conventions including the PATA Travel Mart, the PATA annual conference and the ASEAN Tourism Forum.
ABOUT Pattaya
Combining a relaxing tropical ambience with an exciting cosmopolitan nightlife and first class accommodation choices, Pattaya attracts millions of visitors every year. Its proximity to Bangkok, less than 150 kilometers away, and its long stretches of beachfront, directly on the Gulf of Thailand, already make it one of South East Asia's premier destinations. Add to that an excellent choice of dining options, an array of recreational activities nearby – from golfing to water sports – and you have the perfect "cheese" to attract the "MICE".
GETTING THERE
Pattaya is located about 120 km east of Thailand's main aviation gateway, Suvarnabhumi Airport (BKK), which connects Thailand to more than 64 international destinations. The Pattaya region is also served by U-Tapao Airport (UTP), which is owned by the Thai Navy but has been designated as an international airport, mainly serving charter airlines from Europe. It's about a 90-minute drive to Pattaya from Suvarnabhumi Airport, and an approximately 2-hour drive from the city of Bangkok itself.
MICE IN PATTAYA
Recent investment and municipal development has led to an increase in the number of conventions coming to Pattaya, and the expansion of the city's specialised event venues has transformed this tropical hotspot into a premier MICE destination. In 2013 Pattaya welcomed 2,107,000 MICE travellers, generating almost 2 million THB of revenue for the city. In 2014 the TCEB (Thailand Convention and Exhibition Bureau) estimates overall domestic MICE travellers could reach 4,502,406 – a 2% increase from last year's target – and generate an estimated 13,291 million THB in revenue, or an increase of 4% over last year's revenue target. (read more: www.ttrweekly.com)

The largest MICE venue in the city is the Pattaya Exhibition and Convention Hall (PEACH), a stand-alone, multi-purpose meeting facility – more than 7,000 sq. m – that is located at the 1,090 room Royal Cliff Resort. It is the largest convention center outside of Bangkok. This 6-level building, which is constructed along the slopes of a cliff, can accommodate up to 8,000 delegates theater-style, or 3,640 banquet-style. Furthermore, the hall is flexible and can be divided into four large soundproof sections, or into 9 smaller sections. There are also 18 breakout rooms with capacities ranging from 10 to 470 delegates.

The TCEB recently organized the 1st Domestic MICE Mart (held in July of 2014), which served as a platform for targeted buyers and visitors from public and private sectors, and attracted thousands of industry travellers. Representatives from over 50 MICE venues were in attendance, as well as several dozen domestic MICE buyers. (read more: www.tatnews.org/thailand%E2%80%99s-1st-domestic-mice-mart-peach)

Pattaya's MICE industry is also being buoyed by ongoing infrastructure and tourism development, as well as growth of industrial parks, in Rayong and Chonburi. Automobile manufacturers in particular are keen to hold car launches and dealer conferences at hotels in these neighbouring areas.
MICE HOTELS
Pattaya is home to a vast array of luxurious resorts and hotels. Some of the most renowned MICE friendly properties include:
Hilton Pattaya – 302 rooms, more than 100,000 sq. ft of meeting space
Hard Rock Pattaya – 323 rooms, 65,000 sq. ft of space
Centara Grand Mirage Beach Resort – 555 rooms, 10,000 sq. ft of meeting space
Amari Orchid Resort & Tower – 525 rooms, 14,000 sq. ft of meeting space
Montien Pattaya – 300 rooms, 15,000 sq. ft of meeting space
Royal Cliff Hotels Group - 1020 rooms, 253,000 sq. ft of meeting space & 140,000 sq. ft of outdoor space

ACTIVITIES & ATTRACTIONS
For post-tour and teambuilding activities there are plenty of options available in Pattaya. Golfing is a huge draw in this part of Thailand, and there are over 20 amazing courses to choose from. (read more: www.golfasian.com/golf-courses/thailand-golf-courses/pattaya)

Other sporty activities range from game fishing and scuba diving to corporate Dragon Boat regattas and a range of corporate sailing activities. On the lighter side, theme and amusement parks, offbeat museums and botanical gardens offer a variety of leisure activities and entertainment, while daytrips to nearby islands are always popular.
---