Before & After Events in Thailand
With Thailand being large and diverse there is absolutely no reason to depart the Kingdom immediately after the business sessions of your event have been successfully completed, for the options both before and after the main event are limitless. Whether it is relaxing before a meeting or unwinding after a strenuous meeting, Thailand has built a strong and world renowned reputation for providing world-class entertainment for all ages.

Much of this entertainment is staged in theatres with state-of-the-art technology or attractive outdoor locations. Whatever the venue, they provide unforgettable entertainment, and are usually Thai culturally themed. As the range of facilities increases, these shows are becoming an integral part of any programme arranged for overseas visiting groups.
Sampran Riverside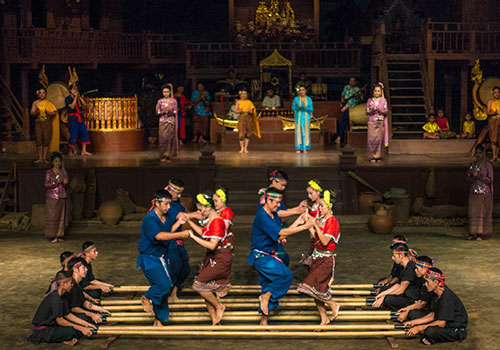 Established more than 50 years ago, The Sampran Riverside in Bangkok is a vast riverside setting which features elements of the traditional Thai way of life in conjunction with cultural performances.

It is in essence a self-contained village where visitors can learn about traditional arts and crafts, take lessons in Thai cooking, fruit carving, basket weaving and listen to folk music. There is also a chance to visit the organic farm which offers training for the local community in healthy living.
Siam Niramit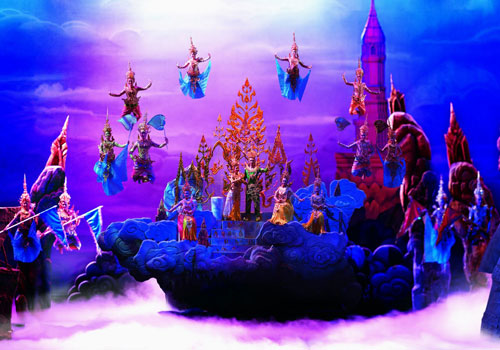 One of Thailand's new generation of theme venues is Siam Niramit, in Bangkok, its gigantic stage is listed by the Guinness World Records as one of the largest in the world. There are numerous sets, fantastic costumes and some 150 performers, playing roles as demons, giants, flying angels, heroes and dancers. Key aspects of Thailand's cultural heritage are further brought to life by a supporting cast of animals.


Khantoke Dinner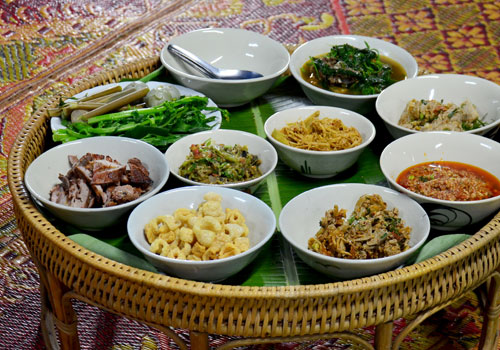 Journey to Chiang Mai and the famous Lanna culture is showcased in the huge open-air restaurant Khum Khantoke. A khantoke dinner is the traditional Chiang Mai way of making guests feel welcomed. They enjoy authentic northern dishes which are presented in small circular trays and this is done while seated on cushions on the floor. There is a nightly show of dance and music where you can view performers in beautiful costumes. Their choreography brings exciting life to the northern and ancient hill tribe dances. They are accompanied by musicians playing traditional instruments.
Nong Nooch Garden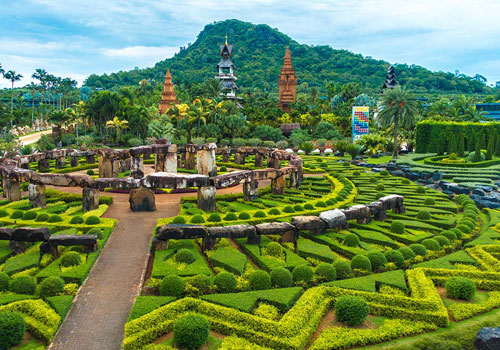 The extremely extensive botanical Nong Nooch Gardens are located just outside Pattaya and cover over 700 acres with one of the world's leading collections of cycads and palms. In addition, there are cacti, orchids and a host of tropical plants. Nong Nooch also boasts a renowned cultural show with dance and music from the various regions of Thailand, together with religious activities, festivals and martial arts. With elephants playing an important part in Thai heritage, the Amazing Elephant Show is also a true highlight.
Ripley's Believe It Or Not!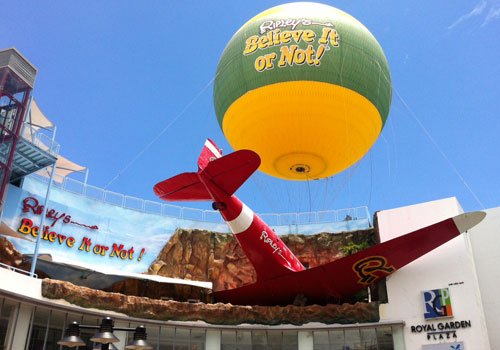 A short distance away is Ripley's World of Entertainment, and this has expanded from its original concept as Ripley's Believe It Or Not! Museum to provide other attractions such as Ripley's 4D Moving Theatre, Ripley's Infinity Maze, and Louis Tussaud's Waxworks. Another feature is Ripley's Haunted Adventure, this uses Thai actors trained by the Scare School in the US.
Tiffany's Show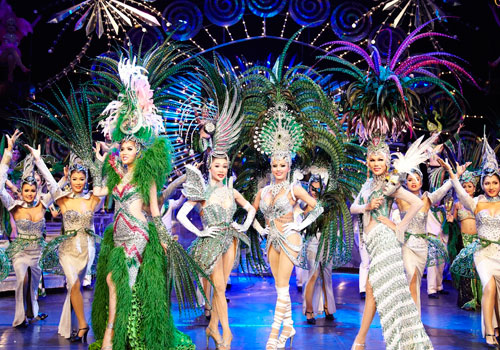 Pattaya is also the location for the Tiffany's Show. This is a hugely popular transvestite cabaret which is set in a 1,000-seat theatre. It has delighted world audiences for many years with its exquisitely costumed musical revues. Running for more 33 years is the Alcazar Cabaret show also in Pattaya.

Cabaret shows are featured strongly in other parts of Thailand too with a number of spectacular performances staged around the country including Bangkok, Phuket, Krabi, Samui and Chiang Mai. There are two major cabarets in Chiang Mai. First the relatively new Miracle Cabaret show, which is not to be confused with the Chiang Mai Cabaret show. In Bangkok is the Mambo show, one of the oldest and most famous in the city.

The enormous choice available also means that spouse programs are themselves an attraction, with local organisers well versed in suggesting and arranging activities that will be fondly remembered long after delegates and their spouses have returned home.
Spa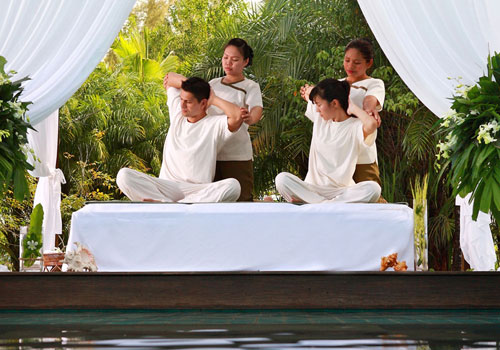 The global phenomenon of the spa industry was basically born in Thailand, which has a centuries-old tradition of massage, herbal treatments and natural body care. Many of the techniques and methods that are now being used in spas around the world originated in the Kingdom.

Thailand is the spa capital of Asia and all manner of luxurious spa retreats are available for delegates to wind down after or attune themselves to before the event. They are also an ideal venue for spouses to spend a day or two while company business is taken care of.
Thai Cooking Class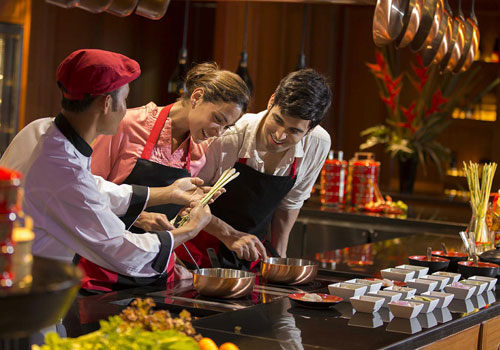 Another popular spouse program is to enrol in a Thai cooking school. Independent schools and schools within hotels are both available, and courses begin at one day upwards, with lunch included. Returning home with the skills to cook a delicious Thai meal is a very attractive option.

Outdoor activities range from the gentle to the outright adventurous, taking in just about everything from hiking and fishing through to diving and rock climbing, and there is always a highly experienced local organisation, with guides if necessary, to ensure that participants are well taken care of during trips.
Golf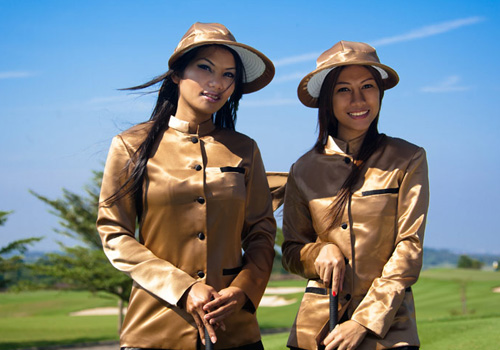 Thailand is home to more than 300 world-class golf courses, many of them designed by famous international names, with green fees astonishingly low and the quality of clubhouses and facilities extremely high. Many Thai golf courses are noted for their teams of female caddies, highly knowledgeable ladies who are invariably a hit with male and female players alike.

No trip to Thailand would be complete without a shopping expedition to one of the Kingdom's many street bazaars, markets or high-end luxury goods shopping malls. Along with international brand-name goods at bargain prices, many visitors return home with an example or two of Thailand's fine handicrafts, which in addition to being a tasteful addition to the home also make ideal gifts.

There can be little doubt of the value added for delegates making the journey to your event by taking advantage of what Thailand has to offer before or after your business sessions have taken place.