KRABI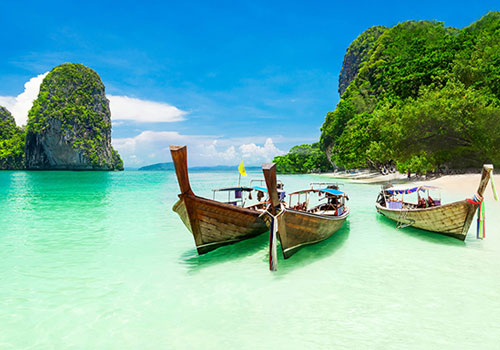 Sitting snugly on the banks of the Krabi River that opens to the Andaman Sea, on the mainland east of Phuket, is Krabi. It is another gem of south Thailand and its latest tourism attraction. With outstanding natural beauty, Krabi's landscape comprises virgin beaches fringed with spectacular limestone formations that tower to the skies, and a shallow coastline dotted with secluded tropical islands, coral reefs and bays. Crystal clear waters and long endless stretches of powdery white sandy beaches literally take your breath away.

This once small town of fisherman and farmers is slowly making its mark among meeting organisers, who will find that Krabi is a new paradise of sorts - suitable for smaller scale incentive and corporate meetings. The awesome landscape, its culture as well as its quiet and laid back mood would bring a delightfully different twist to business events.

Krabi offers a unique destination of rare charm and has something for everyone. Convention centers, international hotels with their own in-house MICE facilities and excellent retreats with meeting facilities, sightseeing activities, top facilities for the health and spa enthusiasts are just a few of the many options that Krabi has to offer for Meetings, Incentives, Conventions and Exhibitions. Krabi's venues and hotel rooms can accommodate events of 50 to 500 guests for activities at any one time.

Main activities here are sea sports such as diving, snorkeling and canoeing, and rock-climbing is especially popular due to the rocky formations in Krabi and its surrounding islands. Organisers should work closely with DMCs and activity operators on matters concerning personal safety and insurance when offering these adventure sports to participants. The best time to visit Krabi is from November to May, but organisers might find better deals during the rainy off-peak season.