Hua Hin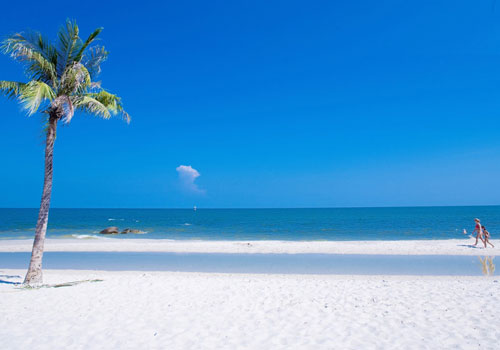 Already a hit with wedding planners worldwide, Hua Hin is becoming one of Thailand's premier spots for conventions, conferences and exhibitions as well. The elegant old world charm of this seaside royal retreat is still very much intact, and apart from a wide array of established hotel brands, the region also offers recreational pursuits such as golf, windsurfing, shopping and just plain enjoying the ocean. The Hua Hin area boasts more than 11,000 hotel rooms, and its selection of venues for business events - some which can accommodate up to 5,000 guests - is growing all the time.
ABOUT HUA HIN
There are many sites in Hua Hin, and neighbouring Cha-am, which reveal the charms of yesteryear. The Hua Hin Railway Station, which has preserved its original wooden Thai-style structures, is especially popular, and the majestic all-wood Mrigadayavan Palace is a must-see as well. Hua Hin is also famous for shopping, and after the sun goes down the Hua Hin Night Market comes alive with stalls selling food, clothes, souvenirs, handicrafts, and almost anything else you can imagine. Water sports such as kite surfing are excellent daytime distractions, but Hua Hin is also popular among golfers, and is considered the original golf destination in Thailand — with the Royal Hua Hin being the first golf course constructed in the country, way back in 1924 (today, the region boasts a total of seven international-standard golf courses).
GETTING THERE
Located on the western shores of the Gulf of Thailand, only two and a half hours by car from Bangkok, Hua Hin has long been a favourite weekend getaway for big city residents. Daily train service between the two cities is available, but riding the rails is not always the most expedient way to get there and back. Hiring a car, or driving one yourself, is by far the easiest transportation option, and the Thonburi-Paktho Road, which passes Samut Songkhram, and leads to the Petchkasem Highway, is the most direct route. For travellers landing at Suvarnabhumi Airport (BKK), daily service luxury brand coaches make frequent trips to the center of town, and Hua Hin also boasts a small airport, which is served by a growing domestic network.