Kanchanaburi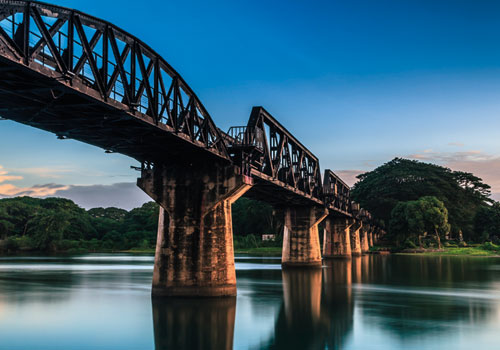 The provincial town of Kanchanaburi is an ideal base from which to explore central Thailand, and it's also become an excellent venue for team-building events and retreats, as it is home to many natural and historic attractions. The main town is busy with tourists - local and foreign alike - especially those interested in finding out more about the WWII memorials and museums. The infamous "Bridge Over the River Kwai" is one of the main attractions in Kanchanaburi, and the roads in the guesthouse area of town are named after countries that were involved in the conflict. But there are also natural attractions in Kanchanaburi, including several well-known waterfalls, caves that were once inhabited by Neolithic man, pristine national parks, tranquil rivers, virgin forests, and several large reservoirs. These attractions offer amazing experiences and the rafting, canoeing, mountain biking, golfing, elephant and jungle trekking, offer wonderful team building opportunities.
ABOUT KANCHANABURI
In north and west Kanchanaburi, the terrain is comprised mainly of mountains and high plains, with the Thanon Thongchai range acting as a natural border between Thailand and Myanmar. The range is the source of the region's two most important rivers; the Maenam Khwae Noi (Little Kwai River) and Maenam Khwae Yai (Big Kwai River). During the Second World War, Japanese forces used Allied prisoners of war (POWs) and conscripted Southeast Asian labourers to build a rail route to Myanmar. The harrowing story was told in Pierre Boulle's book The Bridge Over the River Kwai and the famous 1957 movie of the same name is based on the book. The rail line came to be known as the 'Death Railway', and these days the bridge, the Allied War Cemetery and the war museum bring in a flood of visitors. But the climate of Kanchanaburi is also a major attraction, as it is cooler due to the area's high altitude. In addition, the forests and rivers are a welcome respite from the heat and congestion of nearby Bangkok.

Other nearby attractions include The Three Pagodas Pass, in the Tenasserim Hills on the border between Thailand and Myanmar, which is home to numerous hill tribes, and the Phra Pathom Chedi, located in Nakhon Pathom province, which is one of the tallest pagodas in the world. If you are driving to Kanchanaburi - either to or from Bangkok - you pass through Nakhon Pathom province, and are within easy reach of this magnificent historical attraction.
GETTING THERE
Located just a two hour drive from Bangkok, Kanchanaburi is accessible by road or rail, the latter of which includes sightseeing day trips that run on weekends and public holidays. From Bangkok drivers can travel along Highway No.4 (Phetkasem) via Nakhon Chaisi, Nakhon Pathom, Ban Pong, Tha Maka, and Tha Muang before reaching Kanchanaburi. The roads leading to Kanchanaburi are well-paved, and provide a comfortable driving experience.